Medical Services
The Park City Fire District has gained the distinction of being one of the most progressive emergency medical service agencies in Utah. Our customer base includes over 32,000 residents that have selected the mountain setting as their home, and more than 4 million overnight visitors that choose Park City as their vacation destination annually.
Guiding Principles of Summit County Ambulance Billing Program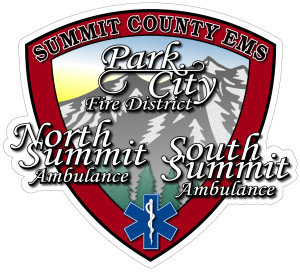 The system of providing Emergency Medical Services (EMS) in Summit County is focused on delivering world-class patient care: regardless of anyone's ability to pay for such service. All patients will be treated professionally, courteously, and with compassion. We will – respond quickly, act competently, be nice.
Mission: 
Summit County EMS (PCFD/NSA/SSA) – Strives to provide the residents and visitors the best emergency medical services possible.
Core Values: 
Integrity   Compassion    Accountability    Respect     Empathy
No one will be denied county ambulance service on ability to pay or lack of health insurance. When our residents or guests need emergency assistance they should call 911 without hesitation.
Frequently Asked Questions
What is EMS transport billing (fee for service)?
EMS transport billing (fee for service) is the process of obtaining financial reimbursement for the cost of providing medically necessary ambulance transportation. Medicaid, Medicare, and most other private insurance policies (health, auto, homeowners, etc.) already allow for reimbursement for this service.  Summit County utilizes this program to seek reimbursement of these funds that will help supplement some of the operational expenses for providing an EMS system while giving some relief to the general fund and ultimately the taxpayer.
If EMS comes to my house but I don't need to be transported, will I receive a bill?
No, currently Summit County does not charge for a situation where the patient is not transported to a medical facility.  In certain circumstances, if you are treated at the scene but not transported you may be billed for supplies used.
 "Doesn't an EMS billing system amount to double taxation"? As a property owner, I am already paying taxes that fund emergency medical services through the county.
No.   Charges for medical transport services result in revenues that should actually decrease the tax burden for Summit County citizens.  The fees are paid as part of insurance coverage for County citizens and non-citizens alike.   In addition, those persons who do not pay County taxes will also be bearing their share of the costs of the services that are funded by the County.
How do I make sure my Insurance is billed?  
Summit County / Park City Fire District will invoice your insurance as a courtesy to you.  If you do not have your insurance information available at the time of treatment, the patient or responsible party should contact the Fire District at 435-940-2511.  The following information must be provided within 10 days of the ambulance report:
Patient name, mailing address, phone number and date of birth.
Insurance company name, address, and phone number
Insurance type (medical, automobile, industrial, Medicare/ Medicaid)
Plan number
Group number
Insured name (primary card holder and patient's name if different)
How does billing work?
Patient care and attending to a patient's needs are always the most important priorities in EMS.     Patients will receive an initial statement from the billing company.  Summit County has contracted with an independent EMS transport billing company to manage fee recovery.  The company, Med USA, (based in South Jordan, UT) is required to adhere to stringent rules concerning patient confidentiality,  professionalism,  and  courtesy  in  the  administration  of  the  EMS transport  billing program.    The County may consider waivers for financial hardship to those unable to pay balances due.  Patients who are uninsured may be eligible for our Compassionate Billing Program.  Those patients that demonstrate a financial hardship may be eligible for hardship waiver, sliding scale deductibles (to be determined), or a payment plan that may require modest payments with no interest or penalties.
The  EMS  billing  company  MedUSA  has  customer  service  representatives  to  address billing  and  insurance  questions  through  a  toll-free  number  and  the  internet.  The number to call with questions is 800-877-9236 ext. 1605 (M-F 8am until 7pm). If you are not satisfied, you may contact the Fire District at 435-940-2511.   You can also email the Fire District with questions / concerns at billing@pcfd.org.
If I don't have health insurance, and cannot pay my bill, what options do I have?  
Patients taken to a medical facility by county ambulance who do not have health insurance will be sent a request for information that will include a financial hardship waiver form.   These patients may be eligible for our compassionate billing program. The waiver form should be submitted to the billing company.  The County may waive the ambulance service charge for financial hardship. If you would like to be considered for a hardship waiver, please fill out and return this form.  REQUEST FOR TRANSPORT FEE HARDSHIP WAIVER
What is a "Compassionate Billing Program"?
A compassionate billing program accounts for the fact that there are individuals who are unable to pay for medical transport services due to financial hardship.  Therefore, the County may grant waivers for payments to those persons who meet certain financial requirements.  Those patients that demonstrate a financial hardship may be eligible for hardship waiver, sliding scale deductibles (to be determined), or a payment plan that may require moderate payments with no interest or penalties.  This may also apply to non-residents of the County.  The threshold for granting a waiver of a bill under this program is pursuant to Utah State Law.  Utah Code 77-32-202(3)(a) defines indigence as an income level at or below  150% of the federal health care poverty guidelines for the lower 48 states and the District of Columbia.
What if my insurance company will not cover my ambulance service bill?
The county's billing service will attempt to gain all information required to show the medical necessity of the transport.
Why can't you accept whatever amount the insurance company pays?
If you have insurance, that policy is a contract between you and your insurance company.  It is illegal for Summit County to write off any co-pays and/or deductibles that you have as part of your policy.
Who will I call if I have a billing or insurance problem?
The billing company will have a customer service representative to address billing and insurance questions.  If you are not satisfied, you may contact the PCFD billing specialist at 435-940-2511.
What are the charges for ambulance transportation? 
Pursuant to Utah Code Annotated 26-8a-403 Administrative Rule R426-8-2, the Utah Department of Health establishes the following allowable ambulance rates as of July 1, 2016:  $707.00 for Ground Ambulance to a medical facility; $933.00 for Advanced EMT Ground Ambulance to a medical facility; $1,365.00 for Paramedic Ground Transport to a medical facility; and $31.65 per mile from scene (pick up point) to hospital.
How will my privacy be protected? 
All members of the organization have been trained on patient privacy or the Health Insurance Portability and Accountability Act (HIPAA) requirements and will strictly adhere to those standards. Click here for a copy of the HIPAA Notice of Privacy Practices
EMS Overview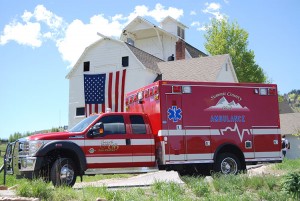 The Park City Fire District began providing full-time emergency medical response and extrication services in 1984. In the beginning, the District relied on a paid-call ambulance service operated by Holy Cross Hospital. In 1996, in order to provide a more efficient and effective service, the District partnered with Summit County to provide ambulance transportation. This partnership began with two full-time staffed ambulances.
In 1997 the Park City Fire District enhanced their medical services by becoming a licensed Paramedic Rescue Service, providing additional Advanced Life Support (ALS) care. Original staffing included four cross-trained firefighter/paramedics located on two fire engines within the community. Today we have seven paramedics on-duty each day staffing four ALS ambulance.
Additionally, on behalf of Summit County, Park City Fire District provides management and oversight of the North Summit and South Summit Ambulances.
Beyond service delivery specification set by the State of Utah, (e.g. response times, staffing, minimum training, and fees for service) the Park City Fire District remains committed to consistently improve their EMS service delivery. A Quality Assurance Program was developed to monitor compliance to Standard Operation Guidelines and Patient Treatment Protocols. This program is facilitated by our EMS Battalion Chief and our off-line Medical Control Physician and reviewed on a monthly basis, providing a constant measure of quality.
For current staffing, equipment, and station locations please refer to our About Us page.