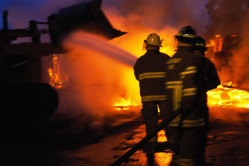 The Park City Fire District's scope of services covers the full spectrum of fire suppression and prevention services, including emergency response to various fire incidents and hazardous conditions, fire prevention and community education, as well as safety and awareness programs.
The Emergency Medical Services Division is comprised of Paramedic rescue services, EMT-Intermediate ambulance transport services, community EMS and CPR education and training, and child safety and injury prevention programs.
Other services include hazardous materials and bio-chemical related incident response, with the Park City Fire District leading a region-wide Hazmat Response Team.
The District also provides backcountry, technical, and ice emergency rescue services.